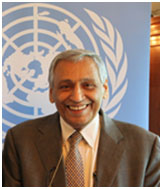 Dean of the Diplomatic Corps at The Court of St James's  1993-2022
In today's globalised world, few problems stop at national borders. Interdependence is the universal reality. Challenges can only be properly met and opportunities for progress properly grasped by working together and building alliances.
The diplomatic community is core to this effort. It has allowed countries to set aside national differences in order to build a common, prosperous and peaceful future. That is why Diplomatic communication is so valuable. It is an essential service to the institutions and the people working in them and this information is to become even more freely available.
I thoroughly recommend it.
His Excellency Mr Khaled Abdulaziz Al-Duwaisan GCVO Dean of the Diplomatic Corps at The Court of St James's Ambassador Extraordinary and Plenipotentiary of Kuwait 1993 – 2022
Mail Us
info@diplomaticcommunication.org